MOOHA
15kg Powder Bag Filling Machine Screw Auger Filler
5kg Powder Bag Filling Machine Screw Auger Filler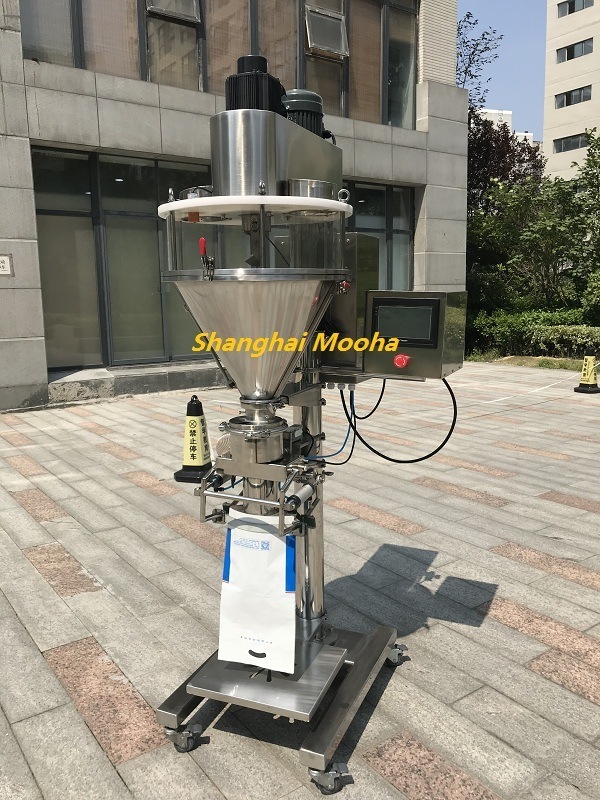 This series auger filling machine suit for powder and small granular products filling into pre-made containers,bags ,cans or
bottles, widely used in the talc powder ,spice ,coffee powder ,wheat flour , starch powder , agriculture pesticide ,dyestuff and so on.

Parameter:
| | |
| --- | --- |
| weight range | 5g-15kg |
| filling speed | 10-60bags/minute |
| power supply | 3N 380V 50Hz/60Hz(aslo can customize 3N 220V) |
| machine weight | 300kg |
| machine size | 1000x650x1900(mm) |

Features:
1. Adopt a stepping motor and electronic weighing technology, the aircraft is slightly lower cost in comparison with the servo motor, and it is economical and practical.
2. Spiral cutting, light-control technology.
3. Specifications: The same machine within the 2-5000g adjustment and replacement of the keyboard under different specifications of material spiral continuously adjustable.
4. Scope: There is a certain fluidity of powder materials, containers (bags, cans)unlimited.
5. Materials due to changes in weight and material level of error correction can be automatically tracked.
6. Photoelectric switch control, only manual bagging, bag clean, easy to seal.
7. Screw feeder can be equipped with automatic feeding control.

Application:
It is the ideal packing equipment for pesticides, veterinary drugs, chemicals, additives, flour, milk, detergent powder, salt, drinks, sugar, monosodium glutamate, condiments(such as spicy fresh), natural flavourings (such as 13 aromatic), enzymes, feed and other powder (powders and ultrafine powder) material.
Details: