Semi-automatic Filling Machine For Powder
Views: 0 Author: Site Editor Publish Time: 2022-03-14 Origin: Site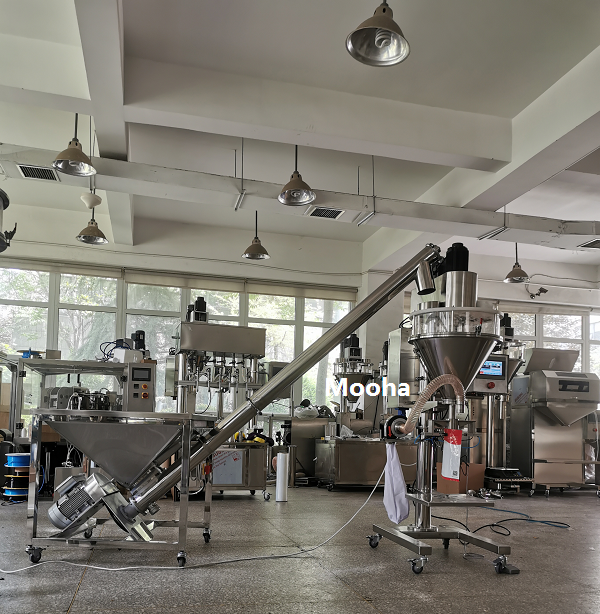 Shanghai mooha, a 9-year experience in packing machine manufacturer in China, can supply the right packing machine according to your needs. our hot sale packing machine is powder filling machine & granule filling machine.
Descriptive Abstract
This model is designed mainly for the fine powder which easily to spout dust and high-accuracy packing requirement. Based on the feedback signal given by below sensor, this machine do measuring, two-filling, and up-down work, etc. It is specially suitable for filling additives, carbon powder, dry powder of fire extinguisher, and other fine powder which needs high packing accuracy.
Main Features
◆Pneumatic bag clamper and platform equip with load cell to handle two speeds filling as per preset weight. Featured with high speed and accuracy weighing system.
◆Servo motor does up-down work driving with tray together, the up- down rate can be set randomly, no dust spouts out when filling.
◆With servo motor and servo drive controlled auger, perform stably, and with high accuracy.
◆PLC control, touch screen display, easy to operate.
◆Made of stainless steel, combined hopper or split hopper,easily to be cleaned.
◆With handwheel to adjust the height, easy to many kinds of weight.
◆With fixed screw installation, the material quality won't be effected.
◆Process:put bag/can(container) on the machine → container raise → fast filling, container declines → weight reaches the pre-set number
→ slow filling → weight reaches the goal number → take the container away manually.
◆Note: the pneumatic bag-clamp equipment and can-hold set is optional, they are suitable for can of bag filling separately.
◆Two filling modes can be inter-changeable, fill by volume or fill by weight. Fill by volume featured with high speed but low accuracy. Fill by weight featured with high accuracy but low speed.